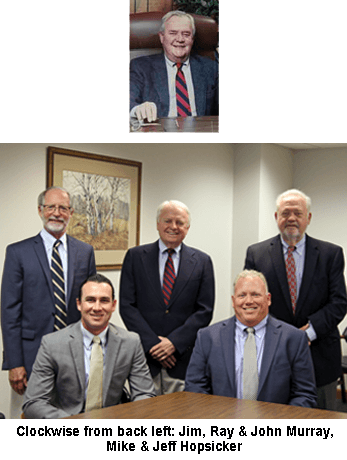 Since its humble beginnings in 1973, Ray Murray, Inc. (RMI) has grown into one of the largest distributors of propane gas equipment and appliances in the United States.  Founded by Ray Murray Sr. (far picture), and who's sons Jim, Ray Jr. and John managed the day-to-day operation from Mr. Murray's retirement in 1997 through 2005.  Mike Hopsicker has been President/CEO and a partner/owner of RMI since May of 2005. Mike acquired 100% ownership in January, 2021.
The company was founded on the concept of complete customer care.  Complete Customer Care best defines the company's team-based operating philosophy with process improvements and follow-through systems that bridge management, customer service, purchasing, warehousing & shipping, marketing and administration. Everything and everyone considers the Customer first and foremost.  It is this Customer-focused business ethic that contributed most significantly toward consistent growth since Ray Murray Sr. started the company.
We invite you to visit us at your convenience at any of our locations and together learn how we may better serve the needs of you and your Customers.
Company History
Ray Murray Inc. – Today
Ray Murray Inc. continues to grow as one of the largest distributors of gas equipment, propane, compressed gas, heating, hearth and grill products in the country. Many team members have amassed over twenty years in the industry and several have over thirty years.
Complete Customer Care, an industry revolution in Customer-focused business embraced by Mr. Murray when RMI began in 1973, is defined by the environment of friendliness, professionalism and accuracy as it relates to you and your business with us. We measure this with every call you make to us and every order we ship. We accomplish this in a team-based environment where everyone has the ability and authority to make Customers happy and is provided tools and support to solve any problem that may arise.
Ray Murray Inc. provides primary direct service to all states east of the Mississippi River including the Northeast, Mid-Atlantic, Midwest and Southeastern United States while also selling products and providing Complete Customer Care and Technical Support worldwide. For many Suppliers, Ray Murray Inc. has developed business levels to become their largest Customer and shares the opportunity to work hand-in-hand in the development and launch of new products. We are always interested and active in developing even more value-added services for our current and new Customers.
2021 – Michael Hopsicker acquires 100% of Ray Murray, Inc.
In January 2021, Mike Hopsicker acquired 100% ownership of RMI.  The partnership between Mike and the Murray family started in 2005 when they began working together on a planned transition of ownership. Over the last several years, the company was able to enjoy significant growth and expand its geographic reach through a combination of 4 acquisitions.  It has grown to be one of the largest two-step distributors in both the propane and hearth and grill industries.
2019 – Jeff Hopsicker appointed to RMI Board of Directors
In November 2019, RMI welcomed Jeff Hopsicker as a member of its Board of Directors. Jeff (Mike's oldest son) joins the five person board that also includes Mike Hopsicker, as well as Ray, Jim and John Murray. Jeff is a graduate of Hamilton College, and has been employed at Citigroup since June 2016 and currently works in Leveraged Credit Sales in New York City. Jeff had exposure to RMI's business growing up and spent a couple of summers working on projects related to RMI's marketing efforts. His experience in the capital markets and at Citigroup, one of the world's largest companies, will be a great addition to the RMI Board.
2018 – Ray Murray earns the NPGA Distinguished Service Award – NPGA's highest honor
Ray Murray was awarded NPGA's Distinguished Service Award at its June Board of Directors and Annual meeting in Washington D.C.  Receiving this award is the highest honor one can achieve in the propane industry.   Ray's selection recognized his leadership and dedication towards advancing the Propane Industry through involvement in NPGA and NYPGA, as well as his tireless efforts to improve his local community through volunteering and holding leadership positions in various community organizations.
RMI Acquires the Assets of Masda Corporation (Whippany, NJ)
Consistent with RMI's dedication to continuous improvement, the Company purchased the assets of Masda Corporation from the Darche family in August 2018.  Masda was a leading distributor of hearth and grill products in NJ, metro – NY and the Mid-Atlantic region.  Similar to previous acquisitions, RMI obtained access to some exciting new product lines, and also realized operating synergies resulting from the combination of the two business operations.
2015 – RMI Acquires Best and Langston (Goldsboro, NC)
RMI continues its growth with an expansion into the Southeast US through the acquisition of Best and Langston, Inc.  Best and Langston was a leading  hearth and grill distributor marketing throughout the southeast from its 45,000 square feet warehouse in Goldsboro, NC.  Best and Langston has an outstanding employee team, and its people, culture and products have fit almost seamlessly with RMI.
2014 – Michael Hopsicker becomes Majority Owner of RMI
In April 2014, Mike Hopsicker became Chairman of the Board and the majority shareholder of RMI. He has been President, CEO and a minority shareholder since joining the company in 2005. Ray, Jim and John Murray continue to play important roles in corporate affairs as minority shareholders, Corporate Officers and members of the Board of Directors.
2012 – Ray Murray, Jr. elected Chairman of NPGA
Ray Murray has always been very active in the propane industry and in June 2012 he was elected Chairman of the National Propane Gas Association.  This great honor capped a four year commitment to the NPGA leadership team where he held offices of Treasurer, Vice Chairman, Chairman Elect, and Chairman of NPGA.  Although he has cut back to a reduced work schedule in the office, Ray continues his important Trade Association work for RMI and is very active in NGPA and the New York Propane Gas Association.  He held the position of NYPGA Treasurer for many years, and continues to hold the position of Treasurer of NY PERC.  Ray continues to be an important mentor and advisor to management of RMI and is Chairman Emeritus of the RMI Board.
2009 – Jim Murray and Liz Murray Announce Retirement
After 36 years in the industry, Jim and Liz Murray decided to spend more time with their growing family and enjoy their golden years.  They spend their summers playing golf and tennis, travel often and enjoy their grandchildren.  Jim continues to play an important role in the company as an advisor to management and member of the RMI Board of Directors.
2007 – RMI Acquires NRG Distributors (Flint, MI)
To further its expansion into the Midwest, RMI purchased NRG Distributors from FerrellGas in October 2007.  NRG was a highly regarded Distributor of Hearth and Grill products and provided RMI with access to great brands and a wealth of experience in the hearth and grill industry.  The NRG acquisition also provided a 44,000 square foot facility in Flint, MI where RMI continues to service hearth, grill and propane equipment products to the Midwest marketplace.
2006 – RMI divests Scuba Business, Acquires McTier Supply
In an effort to focus more resources on its' growing propane equipment distribution business, RMI divested its Scuba business product lines in early 2006.  Later that year, they purchased the business of McTier Supply from Sam McTier of Lakeville, IL.  McTier Supply distributed propane and compressed gas equipment though out the Midwest U.S.  Mr. Murray (Ray Murray Sr).and Sam McTier were old friends having worked together at Bastian-Blessing before each started his own distribution company.  This acquisition combined the businesses of two industry icons and facilitated RMI's expansion into the Midwest.
2005 – Michael Hopsicker Joins RMI as President, CEO and Minority Owner
Always forward looking – Ray, Jim and John Murray wanted to orchestrate a smooth transition of the company ownership so that the legacy of Customer Care started by Mr. Murray in 1973 would continue on for its employees and customers.  To accomplish this, the Murray's formed a partnership with Mike Hopsicker who joined the company in May 2005 as President, CEO and a minority partner.
Prior to RMI, Mike was the CEO of Agway Energy products, one of the largest marketers of propane, heating oil and HVAC services in the northeast oil and propane industry.  Agway was a large customer of RMI and was always known as a very customer focused organization with highly trained and motivated employees.
2001 – Another Move, Customer Care Growth & The Loss Of Mr. Murray
The move to new warehouse and office facilities in Lee MA occurred on schedule in March 2001(toward the end of heating season, thank goodness).  Customer Service team was fortified with five new people, the most in any year!
Mr. Murray passed away early in 2001 following an illness. His memorial service in Stockbridge Massachusetts represented a cross section of people he touched in his life including a who's who of the propane industry. The pastor described a man whose love of people and family touched everyone in many ways. While he died just prior to the formal move-in to the new building, the image of he and Mrs. Murray holding hands as they toured the building and inspected the work in the months before move-in inspired many in the company.
Following Mr. Murray's retirement several years before his passing, brothers Ray Jr., Jim & John had completely transitioned into chief operational roles. In March, Ray Murray Jr. and Jim Murray were named Co-Chief Executive Officers and President and Treasurer, respectively. John Murray joins Jon Gray as Vice President.
1999 – Ambitious Expansion Plans Eyed
The year closed as many before it with record sales volumes along with staff and systems maturing to further integrate Customer Care efforts between Materials Management/Purchasing, Warehousing/Shipping, Inside and Outside Sales, Customer Service/Technical Support, Marketing, Management and Administration.  Plans emerged for a huge new 90,000 square foot facility in Lee MA. Goals for the new facility included greater warehousing capabilities and delivery efficiencies as well as increased Customer Care services. The year's record-setting attendance at Open House observed the retirement of master salesman Al Kadden.
1997 – Company Web Site Launched, Mr. Murray "Retires"
RMI launched a first Internet web site and Customer activity continued to increase on the InterLink computer-based buying service. Customers could now access information 24 hours a day augmenting efforts of a growing Customer Service team.
Mr. Murray decided he would retire and place the Customers in the well-trained hands of his sons Ray Jr, Jim and John Murray. He would maintain a significant presence spending parts of most days in the building checking on details and encouraging everyone how important our Customers are.
1995 – Operations & Administration Ramp-up
Kathy Consolati joined RMI to eventually become Treasurer and Director of Administration. She selected and transitioned the company into a new computer software direction that catapulted business systems to levels of Complete Customer Care previously unachievable and unimaginable.
1993 – Interlink – First Computer-based Customer Ordering System
InterLink, an exclusive RMI Customer communication tool, was launched. It allowed Customers to access ordering and other product inquiry twenty-four hours a day. With this, the RMI offices were effectively never closed. Interlink enabled RMI to achieve a cutting-edge position with many Customers interested in an on-line ordering & information system many years before the Internet began talking about such B2B (business to business) activities.
1992 – Diversco merges; Technical Support Adds "Dr. Science"
The Diversco – Prochem and RMI locations in NJ and PA, respectively, were joined together in one building: a new 22,000 square foot facility in Bensalem, PA. A Customer Service Team was added to the PA site, mirroring the support already offered in Lee, MA. Jan Lindsay (aka "Dr. Science" due in part to his extensive background in combustion systems) joined to anchor the industry's only distributor Technical Support Team to later include licensed installers and gas fitters. This dedication to Complete Customer Care continued to manifest itself as the cornerstone of Mr. Murray's career and RMI's philosophy in product representation, distribution and all aspects of business.
1989 – Bensalem Warehouse Expansion; Product Line Expansion
RMI purchased Diversco – Prochem, a Middlesex NJ-based propane equipment distributor. Around the same time, the Bensalem PA staff and inventory moved to a 12,500 square foot facility to prepare for a growing inventory.
Also in 1989, the company added heating and hearth equipment and plant/industrial equipment to their product lines.   A product manager position and structure was created to manage Customer Care along these diverse product categories.
1985 – John Murray Opens PA Office
Sales territories and personnel grew to reach beyond New England and New York to New Jersey, Pennsylvania, Maryland, Delaware, Virginia and West Virginia. To better serve the needs of the new territory, 5,200 square feet of warehouse space was secured and Ray's youngest son, John Murray, became the new Branch Manager.
1983 – First Open House Draws Overwhelming Numbers, Country Picnic Atmosphere
The First Annual Ray Murray Inc. Open House. Held in the Lee MA facility, the Open House offered a unique opportunity for RMI suppliers to present new products and technical expertise to RMI Customers. The Open House would grow into an annual outing joining together nearly 1,000 people representing suppliers, Customers and friends for a day of technical seminars, food, fun and product sales in a country picnic – outdoor setting.
1982 – Lee, MA Warehouse Expansion
A two-story warehouse addition was constructed in Lee MA exploding RMI's warehousing capabilities to over 45,000 square feet. Product availability and Customer Care remained the cornerstones of RMI's business and continued to develop the company's reputation as an industry-renowned organization.
1976 – Ray Jr. Joins Company; Jim Tackles Scuba
Another son, Ray Murray Jr., joined the company following college, military duty and several years in a successful business career to significantly advance outside sales and marketing. He also assumed responsibility for the Sherwood high-pressure product line. Jim Murray managed the company's endeavor into scuba with the Sherwood Scuba product line. New warehouse and office staff were added to facilitate the company's solid growth.
1975 – Company's First Move and First Full-Time Employee
Rapid and substantial growth caused the company to relocate to the building they would occupy for twenty-five years in Lee, Massachusetts. The new property included 3,200 square feet of office and warehouse space and expanded the company's inventory-warehousing space six-fold. Dennis Olszewski was hired as the first full time warehouse employee. He continues with the company today in Technical Services.
1973 – Murray Leaves 25 Year Job To Launch New Company
Mr. Murray departed Bastian-Blessing as District Sales Manager to found Ray Murray Inc. and begin distributing gas equipment (propane & natural gas) including Sherwood regulators and valves, Copper and Brass, General Processing cylinders and PCC paints. The company initially maintained all operations in Mr. Murray's home in Stockbridge, Massachusetts. The staff and responsibilities were as follows: Mr. Murray traveled and called on Customers for sales. Mrs. Murray managed telephone inquiries from Customers, suppliers and everything else thrown her way. She also packaged and shipped product and cared for the needs of three sons and a daughter.
One of Mr. Murray's sons, James Murray, joined the firm later that year with responsibilities for inside sales efforts and the inbound/outbound warehouse traffic. A 500 square foot warehouse was added less than a half mile away from their home/office. Mr. Murray injected business philosophies around observations that are still in place at the company today, such as "If you're not helping a Customer, you better be helping someone who is," and "RULE #1: The Customer is always right – RULE #2: If the Customer is wrong, refer to Rule #1." And he absolutely meant it.
1947 – Ray Murray Begins Career In Gas Equipment Industry
Ray Murray, soon-to-be a lifelong member of the gas equipment industry, started work in Chicago, Illinois with gas equipment manufacturer Bastian Blessing.