How long has Ray Murray, Inc. (RMI) been in business?
Ray Murray, Inc. was founded in 1973. You can read the complete history of Ray Murray, Inc. here.
Where is RMI located and what is our service area?
RMI has four regional warehouses with sales teams covering the New England, Mid-Atlantic, Midwest, and South Eastern states. Please see our service area map on our home page and RMI Warehouse Locations for more information. An RMI Customer Service person can help you find the outside salesperson assigned to your region.
How do we do business with RMI?
With an approved Trade Account we accept payment by business check and cash. To establish a Trade Account please contact our customer service group or fill out and send in a new account application.
Tel: 800-628-5044
Email: [javascript protected email address]
How quickly can RMI ship my order?
Orders for in-stock products usually ship the same day. Orders for non-stock products are subject to variable factory lead times. Please contact Customer Service for any special shipping requirements you might have.
How can I check RMI's inventory for availability, stock classification, and price?
Product availability, stock classification, and pricing are available to all customers who have a Shop Online user account.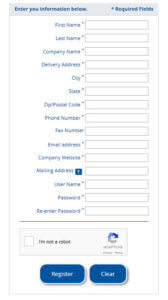 Shop Online Username & Password Request
Will I be charged sales tax?
Sales tax will be charged in the states where RMI is registered unless a customer has current resale certificate on file. The amount of tax is based on the state and all local sales taxes as applicable by the local jurisdiction. Shipping charges may also be subject to tax in applicable states.
What is RMI's return policy?
RMI has succeeded in business since 1973 by being fair and honest with our customers. Products shipped in error by RMI are eligible for return and a full refund if they are in unused resalable condition and the original packaging. If you received the wrong product please contact Customer Service to request a return material authorization (RMA). New, unused stock items purchased in the last 45 days in resalable condition and original packaging that were ordered in error are eligible for return at RMI's discretion with a restocking charge. Non-stock items ordered in error and used items are not eligible for return. Please contact Customer Service should you have any questions regarding a return.
RMI's Return Policy Effective November 1, 2021
What should I do if my order arrives with visible damage?
Be sure to discuss any damage or suspect areas of damage with the delivery person and have them note this on the delivery bill prior to signing and accepting the delivery. If you are unsure whether you should accept a shipment with visible damage, ask the delivery person to wait and contact RMI Customer Service before accepting the delivery.
RMI's Shipping Damage Policy Effective November 1, 2021
What do I do if I'm missing an item from my order?
RMI makes every effort to consolidate and ship orders complete in one shipment, but there are times when items are backordered or ship from another RMI warehouse. RMI's order confirmations show the expected ship dates and warehouses for each item on the order. If you feel an item is missing when you receive your order please check the order confirmation or packing slip to ensure the missing item is not on backorder or shipping from another warehouse. Please also check to see if all boxes on a multi-box order have been delivered. If you are still unsure about your order please contact Customer Service for assistance.
How do we reset an online password or remove an online user who has left our company?
Please contact our IT Support department for help with Shop Online user accounts and passwords.
[javascript protected email address]
Does RMI offer any training opportunities or product seminars?
RMI offers a wide range of training and product seminars throughout the year. Please refer to our Training & Events calendar for dates and topics. Please contact our Customer Service department or your outside salesperson to discuss any specific training needs for your company.
Can I have a shipment sent COD?
Yes, we can ship to you on a COD (Cash on Delivery) basis.
Please contact RMI's Customer Service Department for help with the following and any other questions you might have.
To request a Warranty Claim return.
Can a non-stock item purchase be shipped directly to my location?
Can I pick up my order at a RMI warehouse?
Who is my outside salesperson?